8 best free exercise classes near me, for every fitness level and location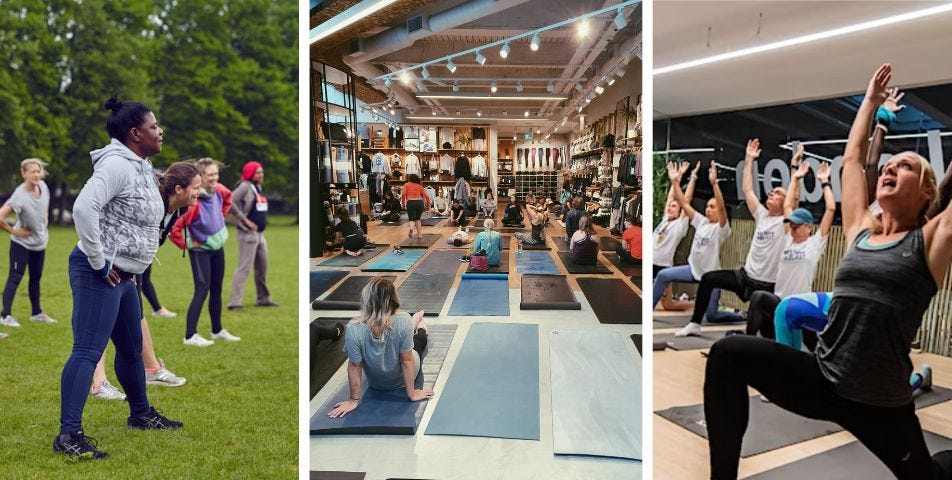 Instagram
If you're looking to get fit and healthy, workout classes can be a great way to achieve your goals (or just to have some fun, if goals aren't your gig). And you don't have to spend silly money. Sure, some of the best gyms in London and the UK may host their own exclusive classes, but there's also a whole load of free exercise classes near you that are just as effective and enjoyable.
In fact, with data from MyProtein showing that 62% of fitness lovers have had to cut the amount they spend on workouts and gym memberships amid the cost-of-living crisis, more and more companies and gyms are starting to offer complimentary workouts.
From in-store yoga classes to goal-specific workouts and run clubs – here is WH's guide to the best free exercise classes near you, across the UK.
1
ASICS

Instagram
Location: Oxford Street, London.
How to join: Sign up via Eventbrite
Attention gym bunnies of London! ASICS is relaunching their free in-store classes as well as their rub clubs after revamping their dedicated workout space located on London's Oxford Street. The classes are hosted by ASICS Front Runners Rey Smart and Ania Gabb, and feature a mix of Pilates, HIIT, and yoga sessions.
The brand hopes that by offering fitness classes they won't only help cushion the impact of a financial crisis, but encourage participants to feel the uplifting power of exercise on both the mind and body.
2
GoodGym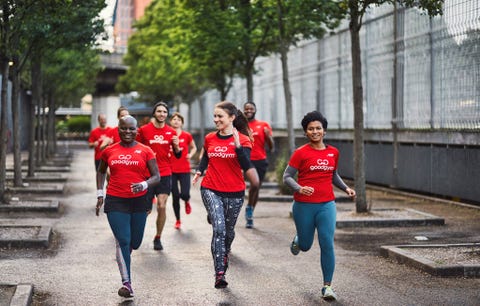 Instagram
Locations: Across the UK.
How to join: Sign up online
GoodGym allows you to get fit while doing good. This free fitness initiative sees runners meeting other like-minded philanthropists to run, pausing along the way to help with community projects. From planting trees at the local park, to sorting cans for food banks and visiting isolated elderly people – there is a wide variety of good deeds you can factor into your weekly sweat fest.
There are currently 21,176 Goodgymers across 59 different areas in the UK, who have helped 40,856 people amid 314,956 feel good tasks. We think this one is great, and one that allows you to achieve your fitness goals whilst contributing to a vibrant community!
3
Gymshark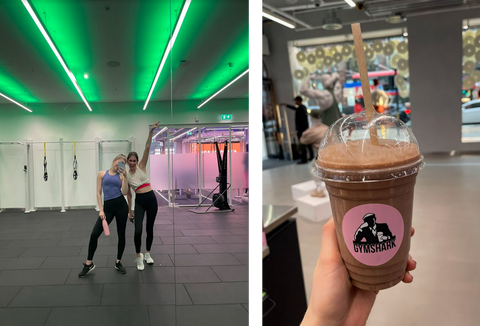 Instagram
Location: Regent Street Gymshark store, London.
How to join: Download their dedicated app and sign up.
Gym Shark is all about community. Since opening their new flagship store on Regent Street in London towards the end of last year, the fitness brand has been offering free classes to its customers. There are currently around 30 classes a week that you can take part in, hosted on rotation between nine Gymshark Pro instructors.
Their classes are bookable through their app, and cover yoga, HIIT, strength and functional fitness. What's more, everyone attending their classes will have access to their gender-neutral locker rooms adjoining the sweat room, which has lockers, showers, towels and beautiful changing facilities.
You can even enjoy a fresh smoothie, or coffee from Joe and the Juice on your way out!
Advertisement - Continue Reading Below
4
Lululemon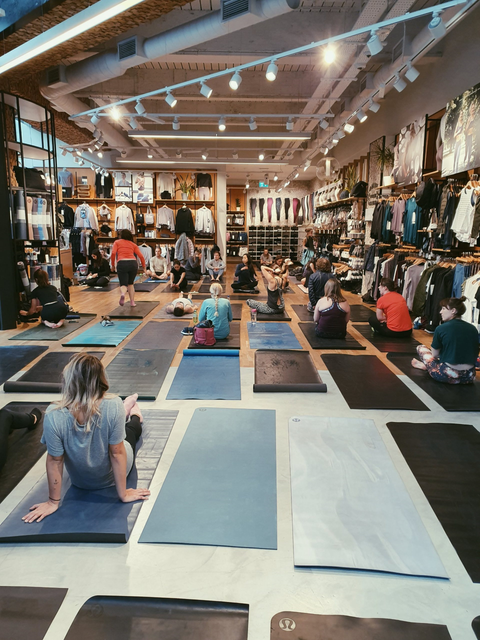 Instagram
Locations: Stores across the UK.
How to join: Visit The Facebook page to sign up to free events
Every week, Lululemon's stores and showrooms unroll their yoga mats and transform their spaces into instant yoga studios. All classes are complimentary and are led by professional instructors from the Lululemon community. If you are London based, we recommend checking out their beautiful Regent Street store, which is especially snazzy. The only downside is you will have to resist the urge to buy some of their luxurious gym wear.
5
Nike Training Club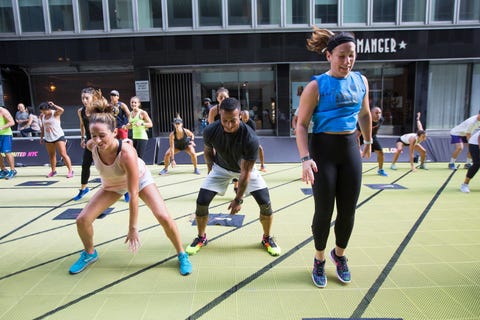 Instagram
Locations: Clapham Common, Finsbury Park, Nike Covent Garden, Niketown London, Regent's Park, Victoria Park, Westfield Stratford City and Westfield London.
How to join: Download the app and keep an eye out for upcoming classes
Nike Training Club's workouts are held in parks and across their stores in London, and it doesn't matter if you are a complete novice or if you've been working out for years – the instructors will offer adjustments to every move to suit your individual needs. Expect high energy and high intensity.
6
Our Parks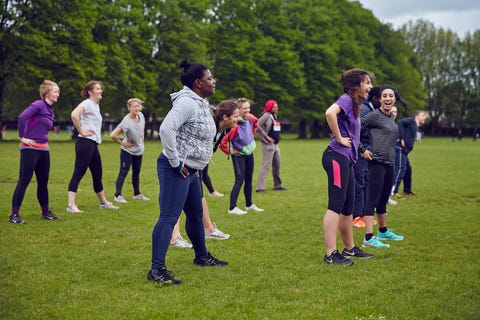 Instagram
Locations: Across the UK.
How to join: Find your local borough and book via the website
Fresh air and fitness are a match made in heaven. 'Our Parks' is a community-led initiative that offers free fitness classes in parks across the UK. Classes include everything from yoga and Pilates to boot camp and cardio based workouts.
All their fitness sessions are one hour long and delivered by fully qualified and registered coaches – so you'll not only be in a beautiful location, but in very good hands.
Advertisement - Continue Reading Below
7
parkrun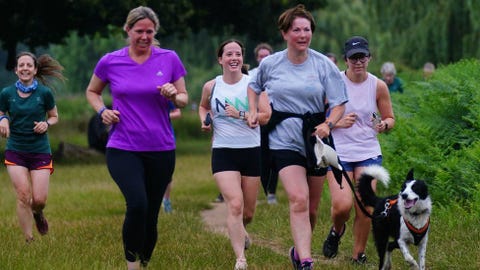 Instagram
Locations: Across the UK.
How to join: Register via the website
parkrun has been around for a while and its incredibly popular – perhaps because there's an especially friendly and welcoming vibe, and there are numerous venues to choose from across the UK. If you are the kind of person who loves goal-oriented exercise then this one's for you, and the concept is easy: run, jog or walk a timed 5k through scenic parkland surroundings.
It's a great way to get outdoors, meet new people, and improve your fitness. With over 700 events in the UK, there's bound to be one near you.
8
Sweaty Betty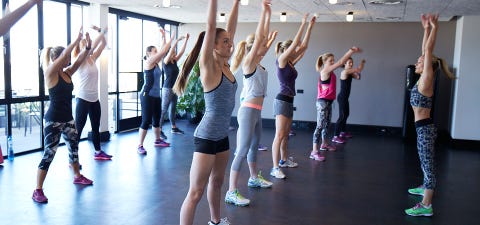 Instagram
Locations: Across the UK
How to join: Sign up via the website
WH's (not so) best kept secret is Sweaty Betty's free classes. From salsa, and spin, to HIIT, Pilates, and yoga – you can try a bit of everything at one of their studio locations. Whether you are a beginner or a fitness fanatic, they have something for everyone. Due to (unsurprisingly) high demand, these classes book up super-fast, so set your alarm and get booking in advance to get your sweat on for free.