Beyoncé's been next-level fit for years, here are 8 things we know she does to stay that way
Including battle ropes, boxing, and a lot of sweat.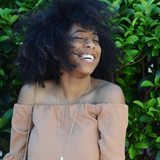 By Alexis Jones
Try watching a Beyoncé production (think: Black Is King) without letting your jaw hit the floor. Exactly, you can't. Each time she performs she astonishes—with her skill, voice, talent, commitment to telling Black stories, and especially her physique. The 41-year-old singer has been on stages around the world since she was a teenager, and she's currently on her Renaissance World Tour. Naturally, she looks fit AF (have a gander at the pics on her IG if you don't believe us), but her approach to exercise has changed a little over the years.
'After the birth of my first child, I believed in the things society said about how my body should look,' she previously told Vogue. 'I put pressure on myself to lose all the baby weight in three months, and scheduled a small tour to assure I would do it. Looking back, that was crazy,' she admitted.
When it came time for Coachella, following the birth of her twins, the artist said she was more patient with herself, embracing her curvier body. But if you've seen the Homecoming video or read interviews from her trainer, Marco Borges, then you know Queen Bey still went pretty hard tackling battle ropes, boxing, cardio and of course, dancing. It's some of the same workouts she's been doing for years.
And if you've been following along, then you've seen how the dedication has paid off. But what exactly is Beyoncé doing in the gym or between rehearsals to say so freaking fit? Keep reading to see the workouts the singer and her trainer swears by for staying healthy and in shape.
1
She knows the importance of leg day
Remember this walk from Beyoncé's Homecoming? Well her lower didn't get that sculpted by accident. The singer's trainer, Marco Borges, revealed the four-move leg workout that she uses to stay toned in an interview with Elle. The circuit includes jumping lunges, plié jumps, pelvic lifts and reverse-squat kicks (phew!).
2
She's big on stretching and flexibility training
It's important not to underestimate this simple activity. Stretching can lead to major body perks: better range of motion, extensibility (a.k.a. flexibility), and stronger muscles. Borges told Glamour that he makes sure to incorporate stretching into all sweat sessions. 'I stretch at the end of every workout,' he said.
3
She trains with heavy battle ropes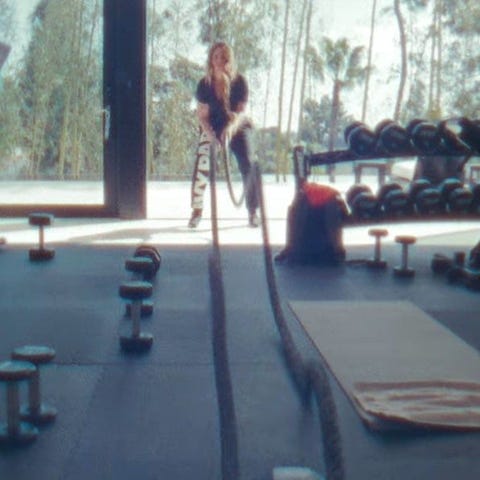 Netflix
Advertisement - Continue Reading Below
4
She's a fan of quick workouts
Beyoncé is a busy woman. So it should come as no surprise that she's a fan of the quick workout. Whenever the singer has has a few minutes, whether in between rehearsals or shoots (like shown here!), she'll squeeze in a few bodyweight exercises like squats, lunges, and planks, according to Popsugar.
5
She relies on cardio to prep for tours
If you've ever been to a Beyoncé concert, then you've seen how she works the entire stage. Her endurance is thanks, in part, to her running and boxing workouts, according to Glamour. 'Sprints are ideal for building stamina and explosiveness, which B needs to move across the stage,' Borges said in an interview. And the boxing workouts, he added, are all about building up her tolerance. 'You run out of gas fast; by pushing through [that fatigue], you develop a ton of endurance,' he said.
6
She does core work and strength training
Beyoncé posted this video a few years ago, but it shows just how long she has been going hard on her cardio and strength training. Here you can see the singer do a series of standing side crunches, full-body sit-ups with a medicine ball, alternating dumbbell punches, forward lunges, and lateral bench hops.
Advertisement - Continue Reading Below
7
She not afraid to double up on workouts
8
She loves exercising outdoors
That's actually how her activewear clothing line Ivy Park got its name. 'The name of the brand comes from where I built my strength and endurance as a young woman,' Beyoncé told Elle. 'I ran and trained in the park, and that state of mind has stayed with me all these years later. It's the first place where I learned to listen to my body.'