We earn a commission for products purchased through some links in this article.
The best yoga and exercise mats for 2023, as tested by WH's resident yogi
Stretch out in style, from just £10.99
Searching for the best yoga mat on the market? Whether you're a dedicated yogi who wants to remain steady throughout your asanas or a HIIT junkie in need of a soft surface for chest-to-floor burpees, a yoga mat is a workout essential.
The best ones can make your practice easier, with everything from super grip to stop you sliding around, to added thickness for a comfier savasana. But with so many out there, it can be hard to separate the wheat from the chaff. Our job is to do that for you. Read on for everything you need to know about yoga mats, including our edit of the ones worth buying.
How to choose the best yoga mat
There are seven questions to ask yourself before you add a yoga mat to your cart.
What level of grip does the yoga mat have?
How much does it weigh?
Is the yoga mat portable?
How much cleaning does it require?
Do you want an antimicrobial yoga mat?
Do you like smooth or textured surfaces? How long is it? Will it work for yoga flows?
Are you looking for a sustainable yoga mat?
What is the best thickness for a yoga mat?
How thick your mat should be depends on personal preference. If you have joints that tend to ache after exercise (or just generally), choose one with a thickness over 3mm. This will ensure there's enough cushion to support you while you move. If you like to feel the floor beneath you (some do for extra sturdy vibes), plump for a thickness of 3mm or less.
How to clean a yoga mat
Wipes or a cleaning spray applied in circular motions to both sides of the yoga mat with a towel are a good call for a quick fix between classes, but at some stage you're going to want to give it a deep clean.
Some mats are machine washable (rejoice!), in which case giving it a thorough clean is as easy as throwing it in the machine, putting it on a cold gentle cycle with mild detergent and air drying it afterwards.
Others require just a bit more effort (always check the label). The safest way to deep clean a yoga mat is by using a gentle cloth and warm water with either dishwashing soap or a mild detergent. Once you've washed both sides, make sure to use clean water and rinse the surface with the cloth before giving it a quick dry with a towel and leaving it to air dry.
WH Lab Approved

Keep an eye out for any yoga mats that have our WH Lab Approved logo proudly displayed on their picture, as these items have all been given our resident PT and yoga expert's seal of approval.
Our pros put a number of mats through their paces, seeing how each one performed during yoga, yoga nidra (a form of deep rest), HIIT and even weights sessions (most yoga mats double up as exercise mats). They were scored based on how grippy, comfortable, portable and stable they were (with bonus points for eco credentials), and only their favourite few made it on to this list.
Our WH editors (no strangers to a soothing stretching session) have also listed their top yoga mat picks. Happy shopping.
Advertisement - Continue Reading Below
Advertisement - Continue Reading Below
Advertisement - Continue Reading Below
Advertisement - Continue Reading Below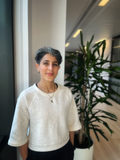 Group Testing Manager Fitness
Yanar is our Fitness Group Testing Manager. She manages health and fitness product testing across all the magazines, overseeing all testing processes and ensuring our lab and panel tests are conducted to the highest standards. Yanar has spent 15 years as a health and wellness content editor and writer for national titles such as Runner's World, Men's Health and Women's Health. Yanar is a Level 3 qualified PT, trained yoga teacher and a registered yoga therapist. She has been into fitness and wellness her whole life. After many years running races and marathons, she now trains and competes in CrossFit and Olympic lifting. She passionately advocates strength training for women to build a stronger mind and body for life.

Health and Fitness Tester
Jodie is our Health and Fitness product tester. She runs tests on a wide variety of products, including gym leggings, walking boots, fitness trackers and more. Jodie has managed the testing for 577 products to date, including working with over 600 panellists.