Women's Health may earn commission from the links on this page, but we only feature products we believe in. Why Trust Us?
8 Best Professional-Grade Microcurrent Devices, Per Dermatologists And Our Editors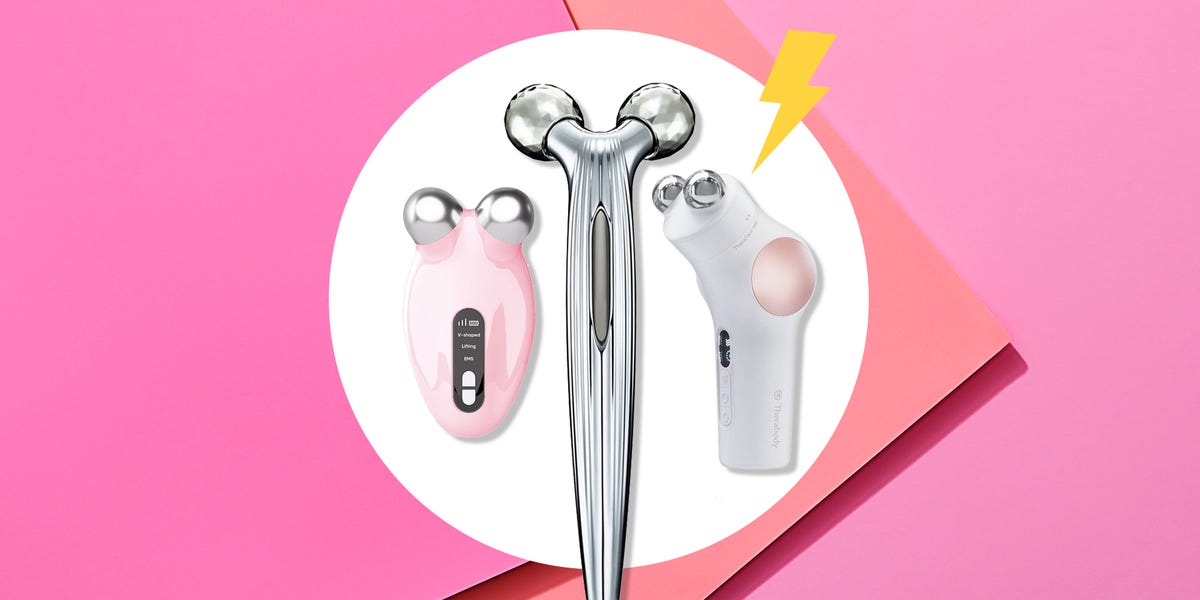 Courtesy / Christine Giordano
When it comes to at-home skincare devices, there are tons of options to choose from depending on what your skin goals are. Want to smooth out fine lines and clear up acne? Consider an LED face mask. How about removing unwanted hair? A professional-grade laser hair removal device can be way more cost effective than in-salon treatments.
However, if you want an instant at-home face lift, microcurrent devices are what dermatologists, celebs, and even Women's Health editors recommend. "Microcurrent devices use low levels of electrical current to stimulate facial muscles, helping sculpt and lift the face," says dermatologist Marisa Garshick, MD.
Here's a preview of the best microcurrent devices:
Dermatologist Bradley Glodny, MD, adds that microcurrents can help heal wounds and reduce inflammation, so they *might* even be able to help build collagen to plump skin and even heal any pain you may be feeling. If you want the best results, Dr. Garshick says you'll want to consistently use your microcurrent device at least three times a week before you start seeing results (though some devices recommend daily use). "While much of the initial benefit may only be noticed for hours to days, with consistent use, the results will continue as collagen production can take six or more months," but more research should be done, she adds.
Ahead, check out the best-tested microcurrent devices in 2023 for an instant at-home face lift. Each has been handpicked by WH editors and dermatologists.
Advertisement - Continue Reading Below
Advertisement - Continue Reading Below
Do dermatologists recommend microcurrent devices?

Hearst Owned
At-home microcurrent devices shouldn't replace your skincare routine, but they can stimulate your muscles to boost collagen and improve the way your skin looks, Dr. Garshick explains.
The energy output of at-home microcurrent devices is much lower than in-office devices, so they're safer but of course mean it'll take longer to achieve results at home. Dr. Glodny recommends them for younger patients who aren't seeking super dramatic results.
That said, you don't have to choose an at-home device over in-office treatments. "A microcurrent device used at home can help to supplement in-office treatments," says Dr. Garshick. "They can work together to enhance and maintain the results, actually" says Dr. Garshick.
Advertisement - Continue Reading Below
Are at-home microcurrent devices worth it?

Hearst Owned
Microcurrent devices aren't exactly cheap—the most affordable ones are still over $100, though the best ones tend to be around $300. Just be sure to use your device consistently at least three times a week, as Dr. Garshick mentioned.
If you're hesistant, she recommends chating with your dermatologist about your skincare concerns and goals—they can help you come up with a treatment plan to supplement the use of your microcurrent device, optimizing the benefits of it.
Addison Aloian (she/her) is an editorial assistant at Women's Health. When she's not writing about all things pop culture, health, beauty, and fashion, she loves hitting leg day at the gym, shopping at Trader Joe's, and watching whichever hockey game is on TV. Her work has also appeared in Allure, StyleCaster, L'Officiel USA, V Magazine, and Modern Luxury Media.