Women's Health may earn commission from the links on this page, but we only feature products we believe in. Why Trust Us?
The 14 Best Healthy BBQ Sauces, According To Nutritionists
Meat your new fave condiment.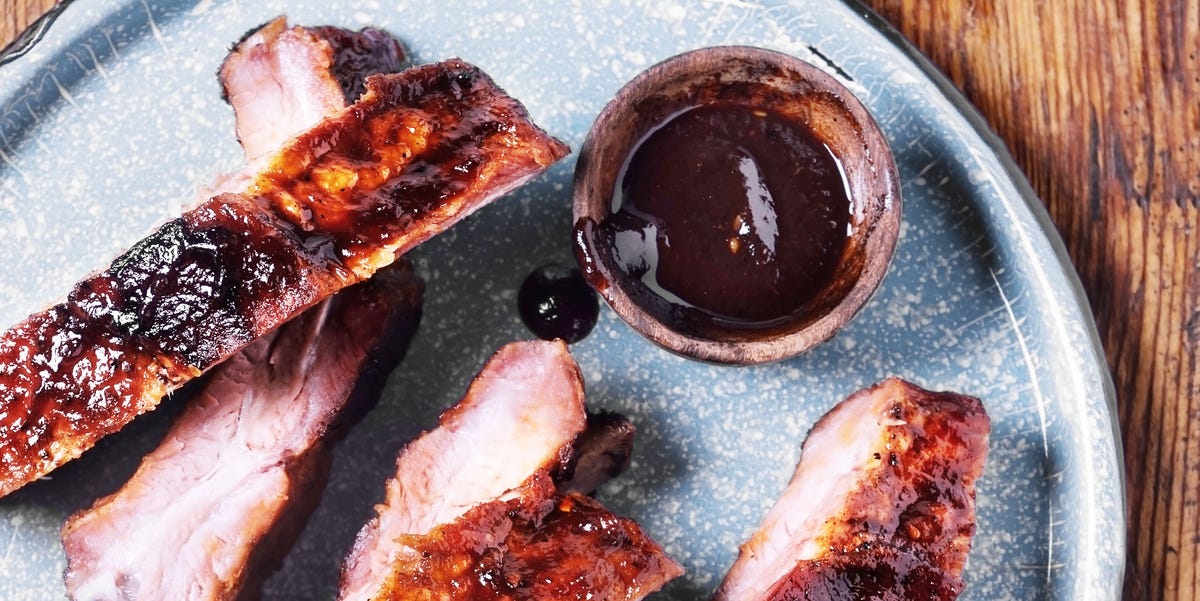 Claudia Totir
//
Getty Images
BBQ sauce is honestly the best way to add a little zest to any dish. That's why there are so many different styles that have become universally beloved (hello, Korean BBQ!). Whether you're used to sauces that are heavier on the vinegar, or you find yourself leaning more toward tomato-based sauces, there are some truly delicious options gracing grocery store shelves these days.
The only problem: All that flavor often comes with a boatload of unwanted ingredients. "You'll find many barbecue sauces out there that contain significant amounts of added sugar," says New York City-based plant-forward nutritionist Amy Gorin, RDN. "Some sauces even list it as the first ingredient." Another issue: "Barbecue sauces can also contain significant amounts of sodium," Gorin says.
The good news, though, is that a growing number of better-for-you BBQ sauces are popping up in the condiment aisle.
Thanks to these new-and-improved options, "you can actually get nutrition from barbecue sauce," Gorin says. "Many contain tomato puree, which offers the antioxidant lycopene. Others, meanwhile, are made with spices such as turmeric, which offers anti-inflammatory benefits."Before putting a bottle in your cart, Gorin recommends scoping out the sugar and sodium content. "Choose one that doesn't have sugar as a first ingredient," she says. The sweet stuff can appear as straight sugar, brown sugar, high-fructose corn syrup, honey, molasses, and maple syrup, among other sneaky disguises.
Ideally, a serving of sauce will come with less than eight grams of sugar. (Sadly, your beloved Sweet Baby Ray's packs twice that.) When it comes to sodium, "try to choose one that contains less than 10 percent of the daily value of sodium (230 milligrams) per serving," she suggests.
A few other no-gos to avoid: artificial sweeteners and caramel coloring, adds New York City-based nutritionist Michal Hertz, RD.
The next time you're craving something sweet-spicy, grab one of these nutritionist-approved bottles of healthier BBQ sauce.
Advertisement - Continue Reading Below
Advertisement - Continue Reading Below
Advertisement - Continue Reading Below
Advertisement - Continue Reading Below

Elizabeth Bacharach is the Assistant Editor at Women's Health where she writes and edits content about mental and physical health, food and nutrition, sexual health, and lifestyle trends across WomensHealthMag.com and the print magazine. She has a master's degree in journalism from Northwestern University, lives in New York City, and dreams of becoming best friends with Ina Garten, who is, undeniably, an absolute queen.

Christine Byrne, MPH, RD, LDN, is a registered dietitian and the owner of Christine Byrne Nutrition, a private practice serving clients in Raleigh, NC, and virtually across the country. She specializes in eating disorders and disordered eating, and takes a weight-inclusive approach to health. A longtime journalist, she has worked as a food editor at BuzzFeed and Self, and her writing has appeared in dozens of national media outlets, including Outside, HuffPost, EatingWell, Food Network, Glamour, Bon Appetit, Health, and more.