While social media is often a curated depiction of people's best moments, Ashley Graham has never been one to fall into its trap. Sure, if you scroll through her feed you'll def see some super vogue moments, but they're also paired with a healthy balance of postpartum hair loss, gym boob sweat, and #realmomma moments.
"I'm just being myself. I'm just being a real person," Ashley tells Women's Health. "The problem with social media is that you're just getting an idea or just a small glimpses of what that person wants [you] to see."
Ashley is, of course, a gorgeous and successful fashion model, but she's built a career off of being real. Now, as a mother of three kids (the cutest Isaac, Malachi, and Roman), being real means opening up about self care and health amid her extremely hectic routine. Ashley gave Women's Health the rundown on how she's prioritizing her health these days.
Ashley maps everything out.
For Ashley, the most important thing to do for your health as a parent of young kids is to "plan, plan, plan, plan, plan." Sounds about right! In addition to having three small kiddos, Ashley's job also requires a lot of flexibility, so she's very organized with her daily routines, especially when it comes to self care. Plus, she has a lot of help!
"I have an amazing assistant who literally maps out my life for me," Ashley says. "I have a very hard time juggling my personal life, my work life, my three kids, my husband [who's] traveling all the time. So, it's all about the calendar."

Ashley sets designated times throughout her week for working out—whether it's with her trainer, yoga, or a Pilates class. However, she also understands that things can't always go to plan.

"It's all about planning ahead and doing your best, but also giving yourself grace for when things don't happen and just being able to work roll with the punches," Ashley says of motherhood in general.
She starts every day by meditating.
Ashley tries to kick off her mornings with a daily meditation practice, but it's not exactly the kind you might expect. "I don't do a normal, like, clear my mind meditation," Ashley tells WH. "I do more speaking into existence."
Ashley's practice is more akin to an act of manifesting that involves, simply, saying things out loud. "I'm commanding over my life in my household, my marriage, my kids," she says. "The things that are yours, the things that you want to command in your life."
Ashley says she learned the technique from her pastor, who is based in Los Angeles. The practice is pretty open-ended—it can be affirming things that are already true, or pursuing for more—but the most important detail is to say whatever you're thinking about aloud.
This content is imported from poll. You may be able to find the same content in another format, or you may be able to find more information, at their web site.
"When you use your mouth and you say it out loud, then you're putting [your manifestation] out there," Ashley says. "Not just quote unquote 'into the world,' but you're speaking it out loud for yourself."
She's sweet, but not too sweet, with her kids.
Any mom knows that negotiations with a toddler can be a nightmare. "You got to get pretty creative on how you're gonna get them to [do] bedtime, bath time, eating the right foods and putting on their shoes on the right feet," Ashley says. "I think parenting as a whole is about being sweet but not too sweet."

But no negotiations needed when it comes to snack time. Ashley's latest favorite go-to is Harmless Harvest's smoothies, because her son Isaac loves them. "Harmless Harvest organic smoothies have been a game changer when it comes to snack time," Ashley says. "Isaac gobbles those things up."
Pilates hits different for Ashley.
If you follow her on Instagram, you know that Ashley doesn't shy away from a difficult workout. She's been with the same trainer, Kira Stokes, since 2018. Together, Ashley says they do a lot of weights, kettlebells, and ball slams. "She kicks my real behind," Ashley says.

However, as Ashley splits her time between New York and Los Angeles, she also has a different go-to workout when she's in L.A. "I like seeing Liana at Forma for Pilates," Ashley says. "It's really tough, especially at Forma. It just hits different."

ICYDK, Forma is a referral-only Pilates studio run by Liana Levi. At Forma, "each session is tailored to meet clients needs, as well as challenge each individual to build endurance and strength," per its website.

She ends her day with quiet time.
When winding down, Ashley likes to center herself with some quiet time, especially with her Higher Dose Infrared Sauna Blanket.
"[At night] I go through my schedule [to see] what my day looks like the next day," Ashley says.
Ashley always sifts through her calendar to see when she can make little moments of "me time" and re-center herself. "For me, handling my stress is always taking care of my body, mind, and spirit, and making sure that everything is aligned," Ashley says.
A great philosophy!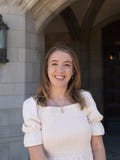 News Editorial Assistant
Olivia Evans (she/her) is an editorial assistant at Women's Health. Her work has previously appeared in The Cut and Teen Vogue. She loves covering topics where culture and wellness intersect. In her free time, she enjoys cooking, running, and watching rom-coms.