10 Lexapro Side Effects In Women You Should Have On Your Radar
Yes, it can cause weight gain.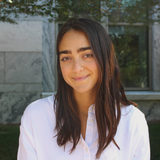 By Andi Breitowich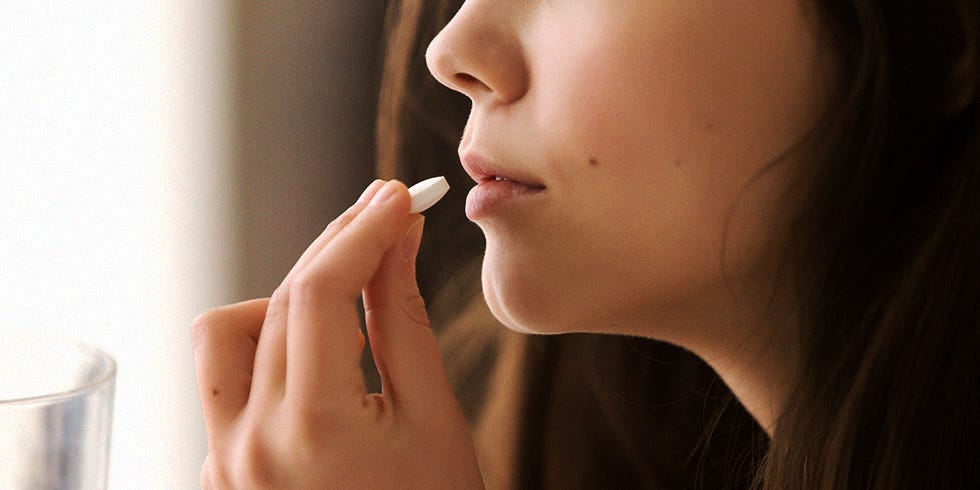 Getty Images
Starting medication for your mental health can feel like a big change, but prioritizing your well-being and getting the proper care is important. One often prescribed to treat depression and anxiety is Lexapro. And tons of people are seeking help—46.2 percent of U.S. adults with mental illness received treatment in 2020, per the National Alliance on Mental Illness. Still, you may be nervous about how your body will react, but knowing what to expect and the possible Lexapro side effects in women can ease some of your worries.
First off, the basics: Lexapro is an antidepressant approved to treat major depressive disorder and generalized anxiety disorder, says Judith Kastenberg, MD, a psychiatrist at Corporal Michael J. Crescenz Department of Veterans Affairs Medical Center. It is a type of selective serotonin reuptake inhibitor (SSRI) and works by restoring the balance of serotonin in the brain. Having a higher level of these neurotransmitters helps reduce symptoms and increase your mood.
As helpful as it is, Lexapro does come with "a long list of side effects," says Susan Anderson, MD, a psychiatrist with NorthShore University HealthSystem. "I've had patients say they don't even want to look at the long list [of potential side effects] because they feel they have everything described."
But don't let that scare you off because while about 60 percent of patients say they had at least one side effect when taking an antidepressant, Lexapro (the generic name: escitalopram) was among the most tolerable SSRIs, one study in 2014 found.
If you do experience side effects, though, most mild symptoms tend to go away after a few weeks once your body adjusts to the medicine, says psychiatrist Jack Drescher, MD. However, if side effects become persistent, continue to get worse, or become unbearable, talk with your doctor about the dosage. "I always start people at a low dose, so if they are going to have side effects, hopefully it's a low amount and they can see what happens in the first week or two," says Dr. Kastenberg. It's also helpful to ask your doctor, "What should I do if I have questions after I leave the visit?" says Dr. Anderson.
Here are side effects to look out for and when you can expect symptoms to go away, according to psychiatrists.

Meet the experts: Judith Kastenberg is a practicing psychiatrist and an assistant clinical professor of psychiatry at the University of Pennsylvania. Susan Anderson is a psychiatrist with NorthShore University HealthSystem. Jack Drescher is a psychiatrist and the past president of the Group for the Advancement of Psychiatry.
1
​Your libido may tank.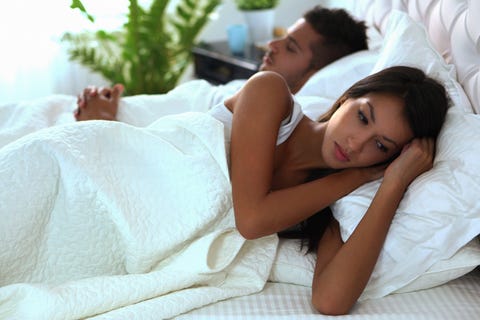 Getty Images
SSRIs in general have the potential to cause sexual side effects, like taking longer to reach orgasm and decreased desire, explains Dr. Anderson. "What a combo, right? They can happen at any time in treatment—even weeks or months after starting," she says.
That said, depression itself can decrease sexual functioning too, so it's important to know what's normal for you, Dr. Anderson adds. The best option is to talk to your doctor about what you can do if you notice the med has affected your sex life.
2
Your stomach may be wonky.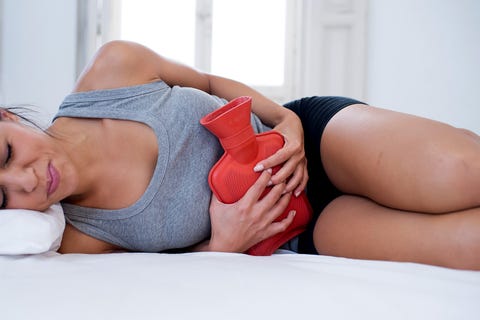 Getty Images
At first, you may notice that your bathroom habits are a bit…different. Dr. Anderson talks to her patients about side effects that may feel like a mild "stomach flu" with nausea and diarrhea. Luckily, though, symptoms are usually mild, peak around the fifth day, and clear up by day 10, says Dr. Kastenberg.
You may also experience some indigestion and constipation because most serotonin receptors are in the GI tract and the use of SSRIs can disrupt normal digestive functioning, adds Dr. Kastenberg.
To soothe your stomach, take Lexapro with food. If your stomach issues just won't quit, you know the drill: Check in with your doc.
3
You may have insomnia.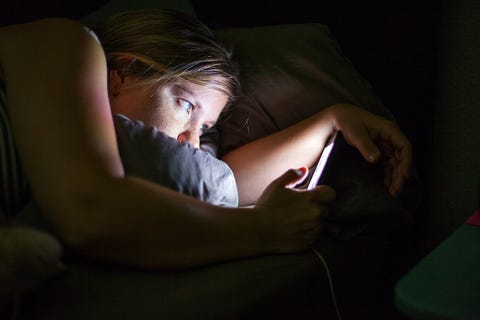 Getty Images
Suddenly find yourself up 'til 3 a.m. scrolling through Instagram? Trouble sleeping is one of the more common side effects of Lexapro as your body learns to adjust to the medication, as the Mayo Clinic points out. Happily, it's only short-term, they note.
Advertisement - Continue Reading Below
4
​Your mouth may be dry.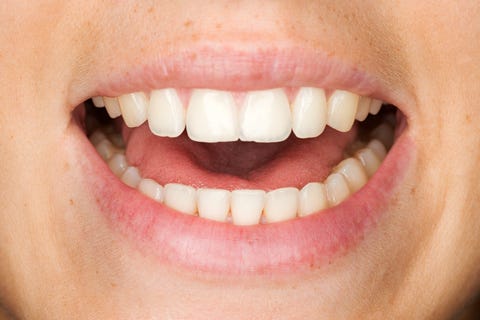 Getty Images
Among the potential side effects, dry mouth isn't that big of a deal. But feeling like you ate a bunch of sand can really be a drag. Nearly 10 percent of patients taking Lexapro for major depressive disorder experience dry mouth, according to the FDA. The likelihood of this (and other side effects) rises as you increase the dose. Mouthwashes with xylitol may moisten things up, per the Mayo Clinic.
5
You may gain weight.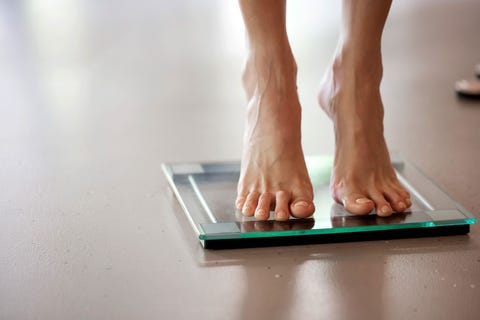 Getty Images
Weight gain is frequently talked about as a side effect of many antidepressants. However, you may notice the opposite at first. "Many SSRIs, including Lexapro, can cause a temporary decrease in appetite that lasts only for a short time," says Dr. Anderson.
Because weight fluctuations are a possibility, this is the time to take stock of your eating and exercise habits. "If you notice an increase in weight, address it early," she advises. One thing you don't want to do is stop taking the medication without doctor supervision because of unwanted weight gain.
6
​You may feel dizzy and drowsy.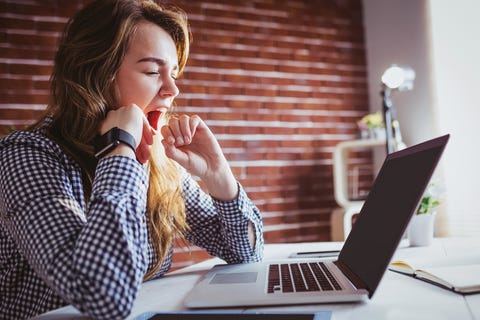 Getty Images
Lexapro also puts you in a weird head space—it can cause dizziness or drowsiness. The U.S. National Library of Medicine (NLM) recommends that you don't drive until you know how you feel on the medication.
This side effect is most likely to hit during your first few weeks of taking the med. Taking a nap and finding time for physical activity can help you shake off the sleepy feeling, the Mayo Clinic advises.
Advertisement - Continue Reading Below
7
Your behavior may change…for the worse.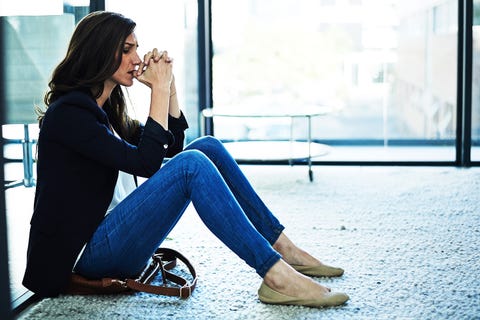 Getty Images
You went on this medication for relief from depression or anxiety—but the strange truth is that sometimes it can make these things worse. Some serious side effects are possible, like thoughts of hurting yourself or unusual behavior, anxiety, or seeing or hearing things that aren't there, the NLM notes. Any of these warrant a call to your doctor.
8
You may get nose bleeds.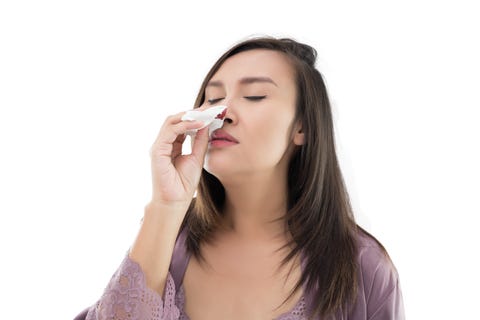 Tharakorn Arunothai / EyeEm
//
Getty Images
Nosebleeds are rare, but they can happen with Lexapro, says Dr. Drescher. SSRIs affect platelets, which are tiny cells in the blood that play a crucial role in blood clotting, and studies show abnormal or increased bleeding may happen during the first few weeks on the medication.
Sit down and firmly pinch the soft part of your nose just above the nostrils for 10 to 15 minutes. Then place an ice pack on the bridge to stem the flow. If it doesn't or this is a regular issue, it's time to see your doctor. They may recommend switching medications.
9
You may develop headaches.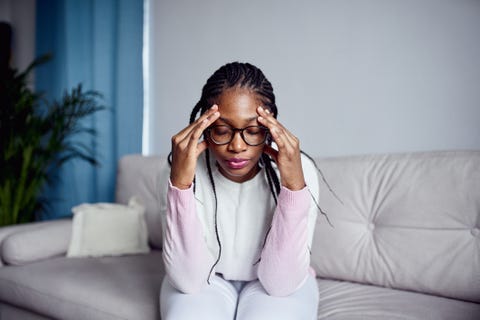 Ekaterina Goncharova
//
Getty Images
Headaches are common, but they typically go away within a week of starting Lexapro, notes Dr. Drescher. Because the medication can cause the release of antidiuretic hormones, which regulate the amount of water and salt in the body, you may develop throbbing in your noggin as a result of low sodium levels, per a 2017 study published in the Journal of Family Medicine and Primary Care.
The head pain is usually mild, but you can numb it with an NSAID like an aspirin or ibuprofen, Dr. Drescher says. Also, make sure you drink plenty of fluids, avoid alcohol, and get adequate rest. Talk with your doctor if headaches become persistent or severe.

Advertisement - Continue Reading Below
10
You may sweat… a lot.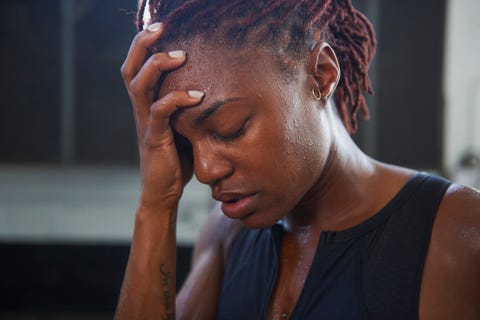 LWA/Dann Tardif
//
Getty Images
Sweating to the point you feel drenched is never ideal, but about five percent of people on Lexapro have an increase in perspiration, says Dr. Kastenberg. You typically notice it after about a week on the medication because the spike in serotonin levels affects the hypothalamus, a part of your brain that regulates your core temperature, research shows.
Try wearing loose clothing and staying hydrated, but if the extra drip really bothers you and doesn't resolve after a few weeks, Dr. Kastenberg suggests talking to your doctor about switching medications or rethinking the dosage.

Andi Breitowich is a Chicago-based writer and graduate student at Northwestern Medill. She's a mass consumer of social media and cares about women's rights, holistic wellness, and non-stigmatizing reproductive care. As a former collegiate pole vaulter, she has a love for all things fitness and is currently obsessed with Peloton Tread workouts and hot yoga.